Some selected quotes about me and The Beauty of Transport…
The positive:
Number 53 on Feedspot's 2017 list of the top 100 Mass Transit blogs. Quite possibly the most exciting thing to have happened to The Beauty of Transport in absolutely ages: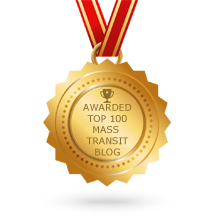 Best of the Blogs in Passenger Transport from time to time, including issues 136, 144 and 149.
"fantastic updates of true hidden design gems" Sam Jessup, Group Design Manager at Virgin Trains, via Twitter
"A nice bit of transport anorakdom" Stuart Vallentine, on Twitter
"respected transport blogger Daniel Wright" Really? Thank you The Vauxhall Society in a review of of a January 2015 The Beauty of Transport post about Vauxhall Bus Station.
And the, erm, not so positive:
"What a lot of pretentious posturing about aesthetics and architectural merit" Adrian Arbus, in a comment left on a July 2014 The Beauty of Transport post about Vauxhall Bus Station.
"#Idiot!" a response on Twitter when I pondered that reducing the length of tunnels on HS2 (when used for hiding the railway, rather than getting underneath things) might be a good way of reducing costs. According to this member of the anti-HS2 lobby, tunnels are cheaper and less disruptive than surface railways, thus overturning decades of understanding of rail infrastructure costs. If only the Crossrail design team had been alerted earlier.
"self-appointed transport expert" a favourite, if not entirely accurate, description of my qualifications in making the point that there were some limits to how much good practice it was practicable for the passenger transport industry to import from the freight logistics sector. From the pages of Local Transport Today, sometime in late 2000 or early 2001, I think. To my enormous regret, I didn't keep a copy of the issue in question.